Viera Residences
Project Profile
VIERA RESIDENCES
For the upwardly mobile individuals and young families who are looking for a relaxing, secure, and comfortable living environment, Viera Residences is a one-tower high-rise residential condo that offers modern resort-inspired homes in the QC Scout area. Unlike other condo properties in its vicinity, Viera Residences offers exceptional value because only DMCI Homes can offer a superior mix of price, location, development features, amenities and quality. Experience elegant fusion of modern design and personal touch.
Amidst the hustle and bustle in the vicinity of Quezon City, within the Scout Tuason areas, there you'll find a refreshing community that will offer generous open areas with lush landscaping that will surely serve as your new comfort zone. A unique place where true resort-inspired amenities await future young families and individuals looking to fulfill their upgraded lifestyle, it is only in Viera Residences where one can come across all these. There will be three invigorating swimming pools, open lawns, gardens and active areas ready to welcome you every day.
Iconic Building Design that works for you
Ever wonder what those holes in some of the high rises of DMCI Homes are for that you see in the city's sky scrapers? We call it Lumiventt Design Technology. A word coined to refer to as "Lumen" meaning light, and "Ventus" meaning wind. It is a pioneering building design that allows ambient light and fresh air to permeate in the building and all unit spaces. It is a design that may actually help you save for high power costs and at the same time let's you enjoy the outdoor feeling, indoors. An iconic building structure soon to rise in Scout Tuason street that actually works for you.
Trusted Brand – The DMCI Homes Legacy
Over the years, DMCI Homes has built a reputation of building premium and quality homes. DMCI Homes believe that the practice of engineering is a profession and not just a business. We provide innovative urban living solutions such as generous amenities, competitive prices, and larger units and configurations suited to the real needs of starting families. As a subsidiary of DM Consunji, Inc., the conglomerate that built prestigious projects in the Philippines, DMCI Homes lives up to the parent corporation's 60-year legacy of excellence, ensuring world-class craftsmanship at a reasonable price.
---
Location and Vicinity Map
Location And Vicinity Map
Viera Residences is located in Scout Tuason, Brgy. Obrero, Quezon City. An ideal location for those seeking convenience and comfort in the heart of the metro, Viera Residences is accessible via public and private transportaion. It is the place to find your sweet respite in the city. Live it up amidst the hustle and bustle of the city.
HOW TO GET THERE?
Take EDSA Northbound lane, and head straight going to Quezon City. Upon reaching Kamuning gear to the right to take the flyover's underpass to make a U-turn to Timog. Turn right at Timog and drive straight. Passing the small rotunda, turn left to Scout Tuason. Drive straight until you reach Viera Residences, development is located on your left.
Take Araneta Avenue going towards Quezon Avenue. Upon reaching Quezon Ave make a right turn towards A. Roces Avenue. Turn right upon reaching Sct. Tuason. Drive straight until you reach Viera Residences, development is located on your left.
Take Quezon Avenue. Make a U-turn to Timog Avenue. Make another right at the third corner street named Scout Tuason. Drive straight until you reach Viera Residences, development is located on your left.
DISTANCE TO KEY AREAS
Road Network
Don Alejandro Roces Avenue - 100 Mtrs

Tomas Morato - 330 Mtrs

Kamuning-Kamias Road - 500 Mtrs

E. Rodriguez Sr. Avenue - 840 Mtrs

Timog Avenue - 1 Km

Quezon Avenue - 1.5 Km

EDSA via Kamuning - 1.8 Km
Commercial Establishments
Tomas Morato-Timog Commercial Establishments - 1.1 Km

Eton Centris - 2.25 Km

Araneta Center-Cubao - 3.2 Km

SM North EDSA - 4.2 Km

Trinoma - 4.2 Km

Greenhills Shopping Center - 4.6 Km
Church
Mt. Carmel Parish - 2.6 Km
Schools
St. Joseph's College - Quezon City - 1.75 Km

Trinity University of Asia

- 2 Km

St. Paul University-Quezon City - 2.3 Km

St. Mary's College - 2.3 Km

Immaculate Concepcion Academy - 2.5 Km

Xavier School - 4 Km

La Salle-Greenhills - 5.5 Km
Hospitals
Capitol Medical Center - 1.5 Km

St. Luke's Medical Center - 2 Km

East Avenue Medical Center - 3 Km

Phil. Heart Center - 3.2 Km

Cardinal Santos Medical Center - 5 Km
Other Establishments
ABS-CBN - 1.7 Km

GMA 7 - 2.1 Km
---
Site Development Plan
Site Development Plan
Viera Residences is a 27-storey residential building on a 5,700 sqm lot. 30% is the building foot print while 70% of the total area is alloted to ground level amenities, ensuring that there is more than enough space for the residents to enjoy modern elegance that epitomizes the essence of resort-inspired living.
Viera Residences, like any other high-rise buildings of DMCI Homes, delivers its trademark design - the single-loaded hallways, central garden atriums and sky patios. The Lumiventt Design Technology is featured to give true home living to all residents. From its resort-inspired amenities, to larger-than-usual units, these elements not only are aesthitically impeccable but affirms the true exquisiteness of Viera Residences.
Security
Guarded Entrance Gate / Perimeter Wall / Electrified Fence/Roving Security Personnel
Utilities
5 High-speed Elevators /Underground Water Cistern & Sewage treatment plant /Centralized Garbage Disposal Area at the Basement/100%Back Up Power
Property Management Office Services
Security for Common Area/General maintenance of Common Areas/Utilities Application and Payment Assistance/Taxi call-in service
---
Building Features
Building Features
Modern Architectural theme

Lumiventt Design Technology

Unit Balconies

Single Loaded Hallways

Central Garden Atrium

5 High Speed Elevators

Laundry Station

Water Station

Convenience Store

Centralized Mail Area

Fire alarm system

Automatic fire sprinkler and suppression system

Fire exits at both wings

Provision for CCTV in common areas

Wifi ready indoor amenity area

100% back-up power

Individually metered utilities and provisions for cable and telephone connections for each unit

Electrified perimeter fence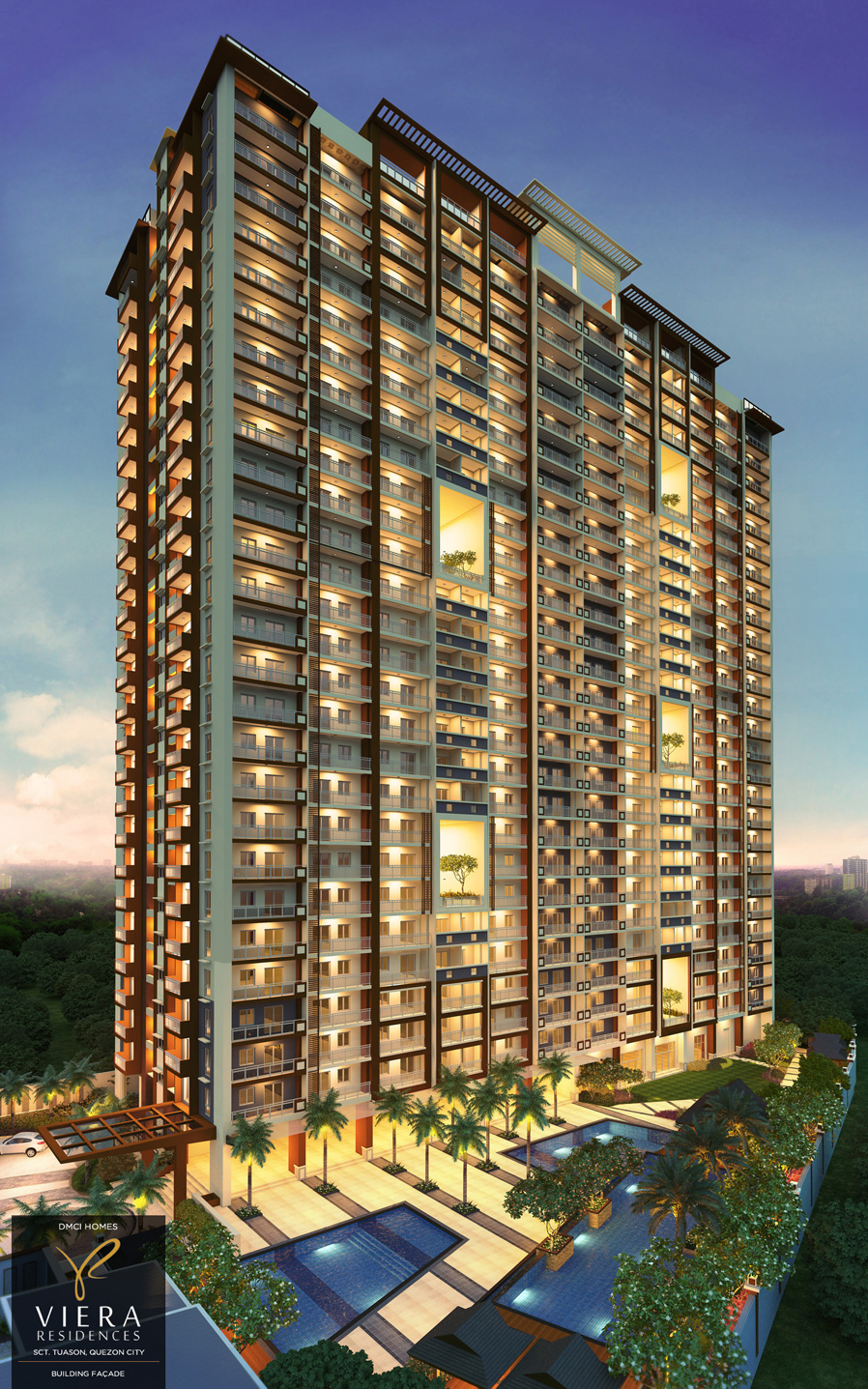 ---
Unit Features
Unit Features
Viera Residences embodies modern symmetry in its built form combining its function and location in the heart of the city. It gives you the opportunity to have what we all strive for - balanced lifestyle. Every element is carefully considered to suit the beat of your outgoing lifestyle.
Studio Unit - Php 2.06M - 2.33M
2 Bedroom A - Php 3.26M - 3.40M
2 Bedroom B - Php 3.26M - 3.40M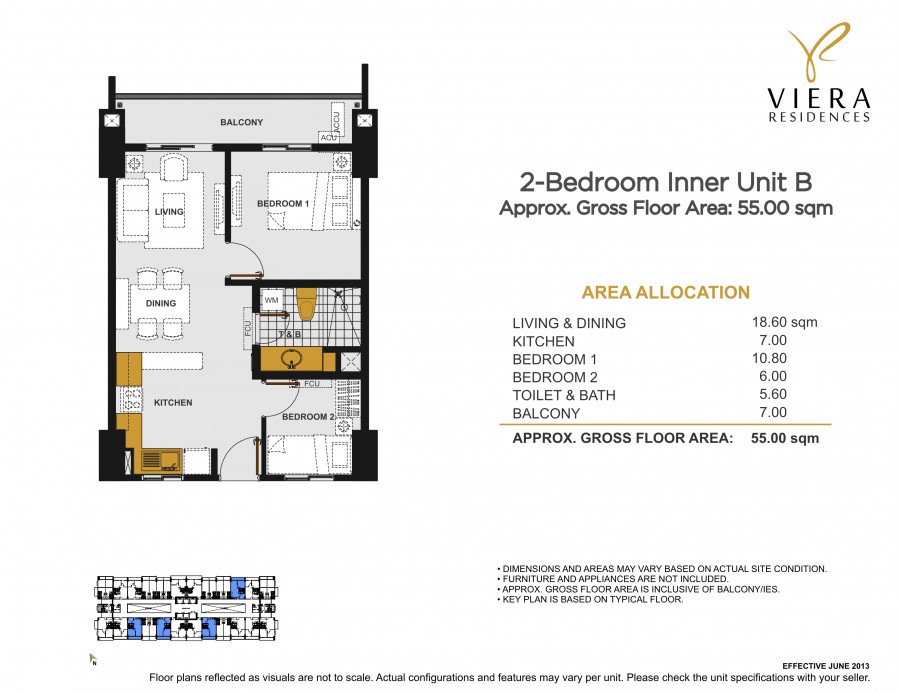 2 Bedroom C - Php 3.26M - 3.40M
2 Bedroom D end unit - Php 4.24M - 4.58M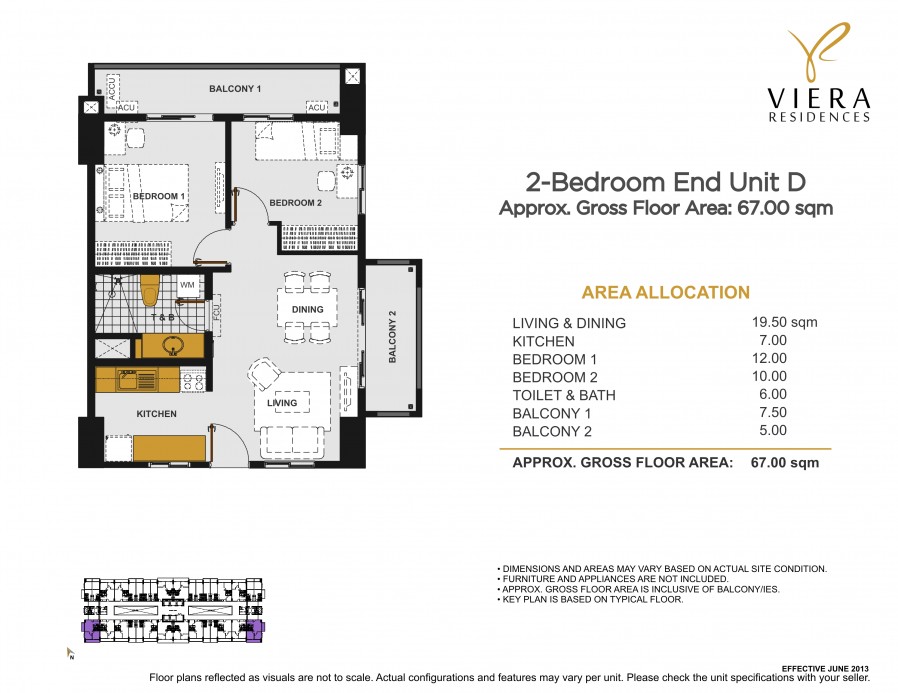 3 Bedroom Tandem Unit - Php 6.4M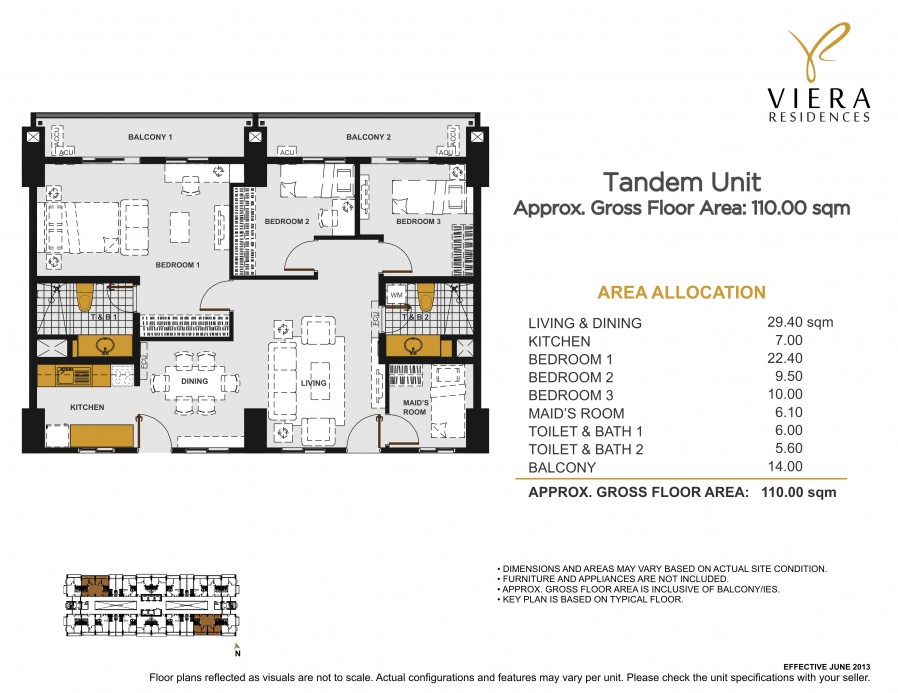 Note: Prices may change without prior notice.
---
Amenities and Facilities
Amenities And Facilities
Outdoor Amenities
Children's Playground Click here to view
Open Lawn / Picnic Grove Click here to view
Kiddie Pool Click here to view
Lap Pool Click here to view
Lounge Pool Click here to view
Sky Park / Roof Deck Click here to view
Landscaped Gardens
Shower Area
Indoor Amenities
Function Hall Click here to view
Lounge Area Click here to view
Fitness Gym Click here to view
Entertainment Room Click here to view
Sky Lounge Click here to view
Landscaped Atriums Click here to view
Facilities
Reception Lobby Click here to view
Laundry Station
Main Entrance Gate Click here to view
Water Station
24-hour Security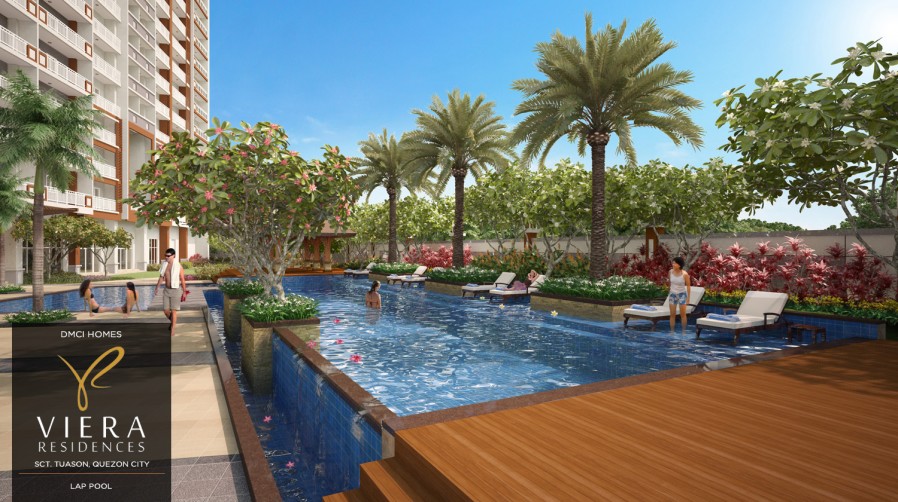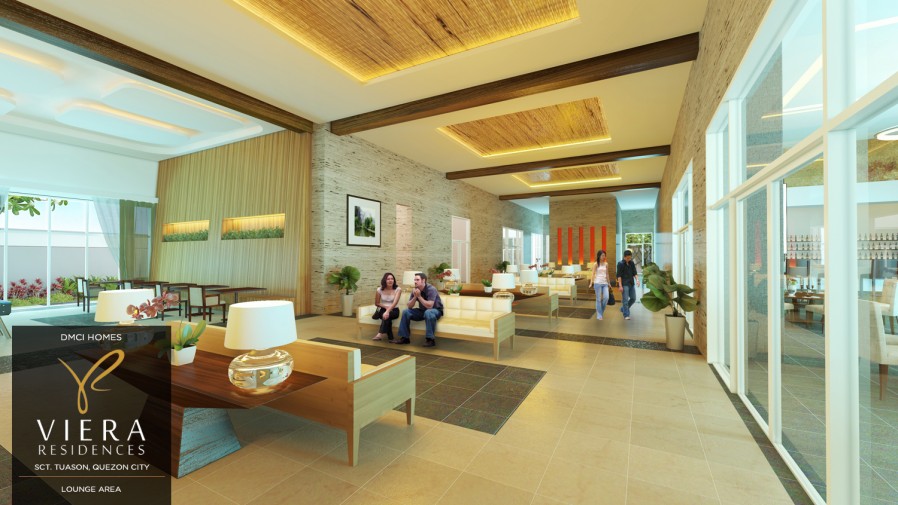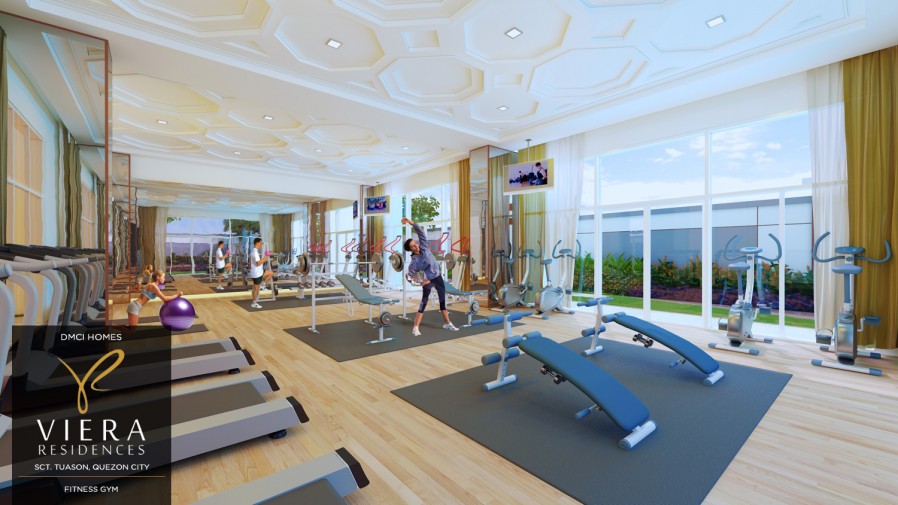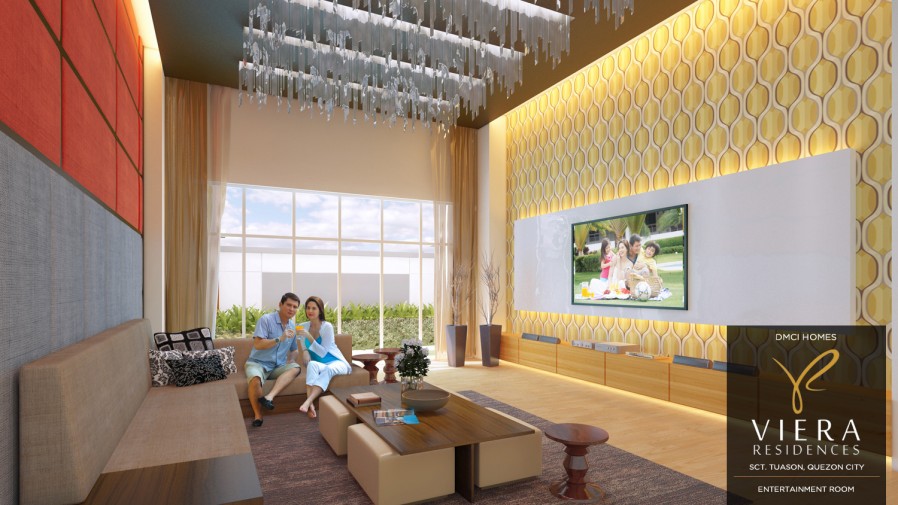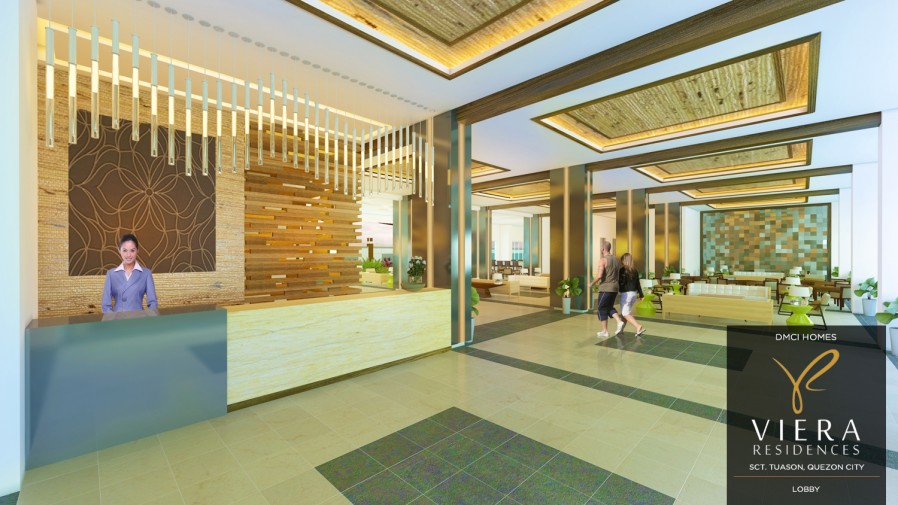 ---
Construction Updates
Construction Updates
Turnover date : March 2018
Inquire Now! Go Direct!
DMCI HOMES - In-House Sales
0927-2059064
dmciprojects@gmail.com