Asteria Residences
Project Profile
ASTERIA RESIDENCES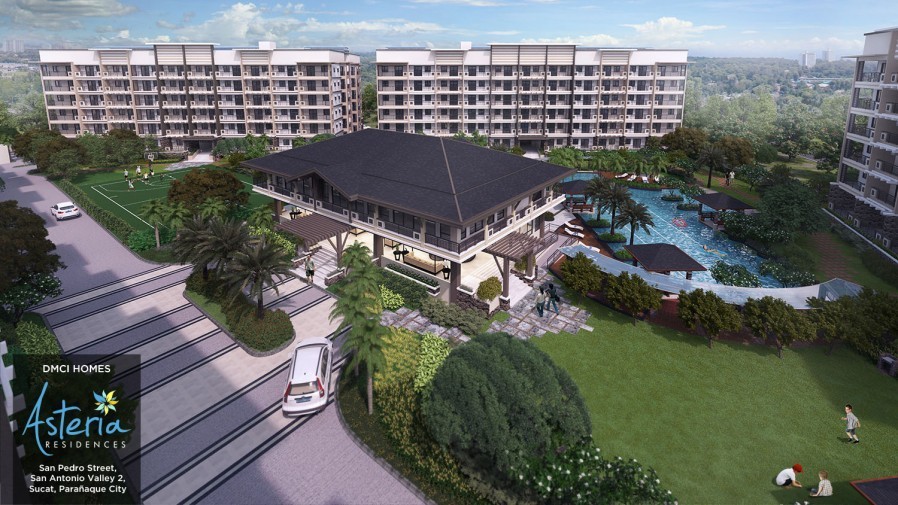 For starting families and accomplished young professionals in Paranaque City, as well as parts of Muntinlupa City and Las Pinas City. Asteria Residences is a medium rise condominium developed by DMCI Homes that offers secure residences with access to numerous places of interest complimenting the emerging dynamic lifestyle in the South.
Its well designed units and reosrt-themed amenities exude the same of comfort and relaxation the area is known for. With all of these at a suitable price range, Asteria Residences of DMCI Homes is a place that is refreshingly vivid.
---
Location and Vicinity Map
Location And Vicinity Map
The projects is located in San Antonio Valley 2, where houses surrounding the project bring out a sense of quiet and calm. Just a few minutes away, you may find establishments in Paranaque - from malls to supermarkets and restaurants. The location is also in proximity to other neighboring subdivisions, making it easier to future residents who are based in the area to still keep in touch with family and friends. Whether it's a low-key or dynamic lifestyle. Asteria Residences of DMCI Homes allows you access to that and more.
---
Site Development Plan
Site Development Plan
7 Buildings comprise this 2.7 hectare property, in the middle of which is an amenity area perfect for rest and recreation. The property is developed in a Neo-Asian Minimalist theme.
Entrance Gate
Convenience Store
Laundry Station
Water Station
Stand-by Electric Generator
Property Management Services
24-hour security, with roving personnel
General maintenance in common areas
Taxi call-in service
Utilities application and payment assistance
---
Building Features
Building Features
Unit Balconies
Single-loaded hallways
Scenic elevators per building
Mail Areas
---
Unit Features
Unit Features
2 BEDROOM UNIT
3 BEDROOM UNIT
3 BEDROOM TANDEM UNIT
---
Amenities and Facilities
Amenities And Facilities
OUTDOOR AMENITIES
Lap pool
Kiddie pool
Leisure pool
Basketball court / Play court
Palm Plaza
Open Lawn / Picnic Grove
Shower area
Children's Playground
Landscaped Gardens
Pool Deck
Clubhouse
Gazebo / Cabanas
INDOOR AMENITIES
Fitness Gym
Game area
Lounge area
Entertainment room
Function hall
Lanscaped atriums
FACILITIES
Convenience store
Laundry station
Main Entrance gate
Perimiter fence
Water station
24-hour security
---
Construction Updates
Construction Updates
Inquire Now! Go Direct!
DMCI HOMES - In-House Sales
0927-2059064
dmciprojects@gmail.com